Better Beginnings is a Western Australian family literacy program that connects families with books through free reading packs. Our goal is to inspire a love of literacy and learning for all children by encouraging families to read, talk, sing, write and play with their child every day.
All Kindergartens in the City of Armadale offering programs for 4 year olds are invited to participate in the Better Beginnings Kindergarten program. Register as a Better Beginnings Practitioner on the website to receive free reading packs for kindy students and discover other resources for educators. www.better-beginnings.com.au
The reading pack includes:
A beautiful Australian children's picture book;
A fun activity to accompany the book;
A green library bag; and
An information booklet for parents about books and reading.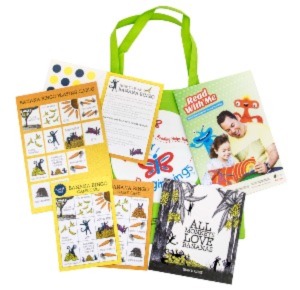 Depending on your school's COVID plans we can offer the following delivery options:
Visit classes individually/read a story to the children/show the reading pack/promote the library (20 minutes per class)

Deliver packs to your school for kindy teachers to distribute.
To book an incursion or make an enquiry please contact our Young Peoples Services Librarian at Armadale Library on 9394 5133  or email sreilly@armadale.wa.gov.au.
We look forward to delivering the Better Beginnings Kindy program to your school!